"Technology must be considered as offering instruments that serve to boost, and not to suffocate; talent is a quality that is unique and can be neither measured nor sold.
This, in my opinion, is what distinguishes conservatism from progress, excellence from mediocrity. Personally I believe it is a matter of culture."
Giovanni Lucchi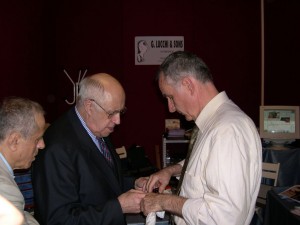 Who was Giovanni Lucchi? There are so many answers to that question. The most common is that he was "the founder of Italian bow making"; many more simply speak of him as "the bow maker of Cremona"; others still remember him above all for his nature of scholar and researcher. All agree to define him as "Maestro".
And it was this characteristic perhaps that he showed more than others: he revealed all of his "secrets" to his pupils in the workRostropovich e Lucchishop, he shared his knowledge with them – even the most unusual – to the students at his bow making school, he shared his discoveries with friends and acquaintances, always hoping to improve himself and others.
"Here's another of my secrets I need to tell everyone" he would often say.
The Foundation, set up by us, his children, in his memory, is nothing more than our response to his teachings. We, who apart from inherting his workshop and his bows, have also inherited his philosophy, his love for the constant search for quality and the desire to share, decided to continue the work of our father and Maestro by carrying out the project he himself had imagined.
The main project of the Fondazione Lucchi is no doubt having contributed to open in Cremona a bowmaking and violinmaking private school and organised and supervise its scholarship.
To learn more: www.fondazionelucchi.it